Stages 04.2 – Bringing The Seabed to Life; and 04.3 – "Laying Out The Pin-Sharp Seabed Highlights"
Bringing The Seabed to Life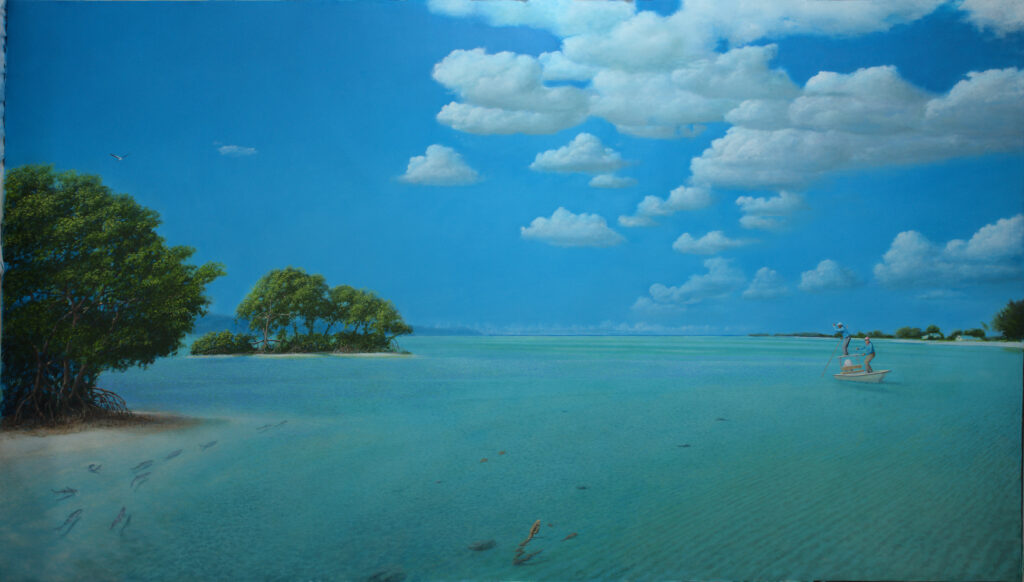 Cardnell: I now have 10 roughed in Bonefish swimming out from the bottom left hand corner of the canvas stretching upwards in a teardrop pattern to a line horizontal to the far edge of the sand of the first mangrove cluster. Whilst I've rendered the furthest Bones indistinct I've not yet distorted any of the larger fish at the bottom of the canvas or those in the middle. I think I need to wait until the paint is dry and approach this task carefully. Also I have now added two starfish, five stones, two small boulders, and a submerged anchor.  It's now make-or-break time as I start on the highlights. These will begin at the bottom of the canvas and will encompass the vast majority of the sea area all the way up to the horizon.  I expect the initial application of this feature will take seven to ten days.
"Laying Out The Pin-Sharp Seabed Highlights"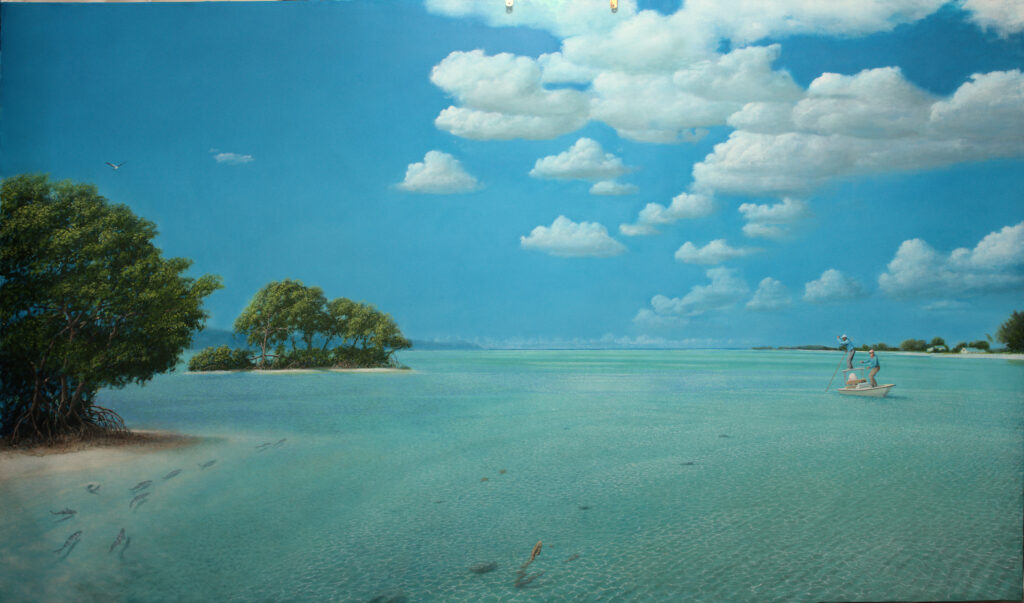 Cardnell: In Stage 04.3 it has been my intention (because the ground has been prepared) to dedicate this entire intermediate Stage to laying out the pin-sharp seabed highlights, which you can see I have started here. This is the first pass of the light bars, light refraction and light reflection off the sandy bottom creating the 'lattice work' of light highlights throughout the water's surface where the light source and depth of water influence these attributes most. Where these highlights are not as pronounced is because of the depth of the water and/or shading caused by the mangrove clusters, etc.