Stage 03.2 – More Clouds and Production Plan
More Clouds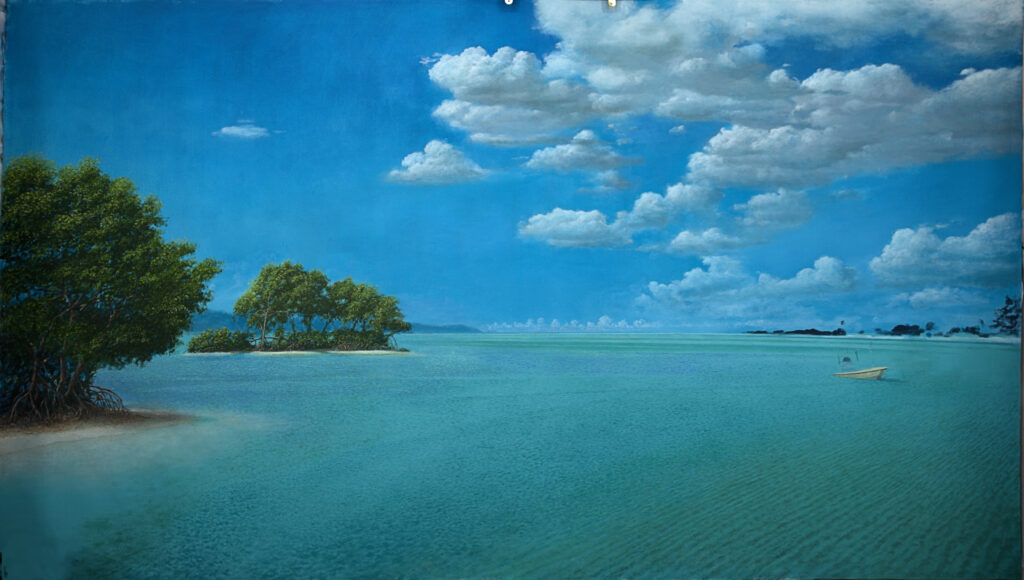 Cardnell: Please note that I have only worked on the clouds. I'm quite happy with the result so far.  So much so that I expect Stage 04 to see this part of the composition complete.  At the moment it is not my intention to add any more significant cloud-clusters but just to adjust where appropriate, smooth-out some of the formations, and add more highlights.  Stage 04 should also see me finish graduating and smoothing the non-cloud areas into which I will add some small cloud-satellites.
Production Plan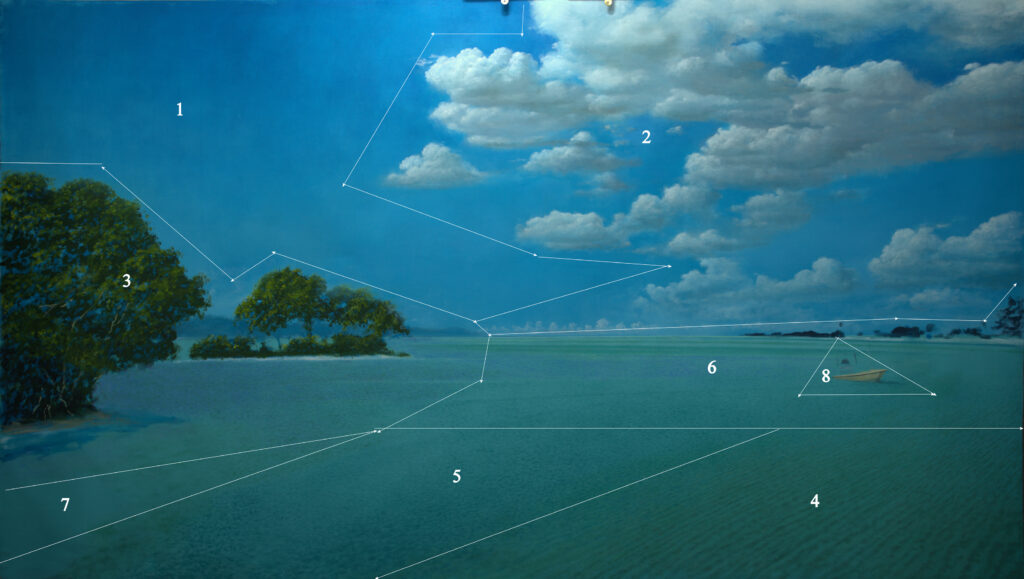 Cardnell: I attached an image that roughs out my 'production approach'.  This is how I work for each Stage and each of the 8 areas are considered separately for each pass (with overlap); normally without exception and in this order.  It's my largest painting to-date so I've organized it more formally than most in the past to ensure the whole canvas is considered in depth.  This forces me to give each area the attention it requires to ensure no area is 'beggared' simply because it is proving difficult.  Please note that 'area 7' (which will contain the Bones) has not yet received my full attention, although I expect that to be rectified in what remains of this Stage.
I may refer to this image to give you a better idea of my progress.  And at this moment in time, in accordance with the 'production plan', I have begun to rework 'area 3'.
I spent a little extra time on 'area 7' and the transition into 'area 5' as it's important for this to be ready to introduce the Bones.  In all honesty all that is required of 'area 4' is to 'subdue' it somewhat as it only provides a layer on which to add my bright highlights. It is my intention to introduce the angler as the very next step. I have now 'subdued' 'areas' '4' and '5' in order for that work to begin in Stage 04. I will now work on 'area 6' adding more short horizontal highlights before roughing out the angler.