Stages 03.2 Cont'd – Graphite Angler & Guide Composition; and 03.3 – Explaining Seabed Details
Graphite Angler & Guide Composition
Cardnell: Head buzzing so got up and started painting at about 2:30 AM.  Now 4:30 AM here but I've just finished some research. FINALLY!  Got the perfect stance on each player! I had a doze after my research and have now roughed-out a pencil study based on what I found.
Explaining Seabed Details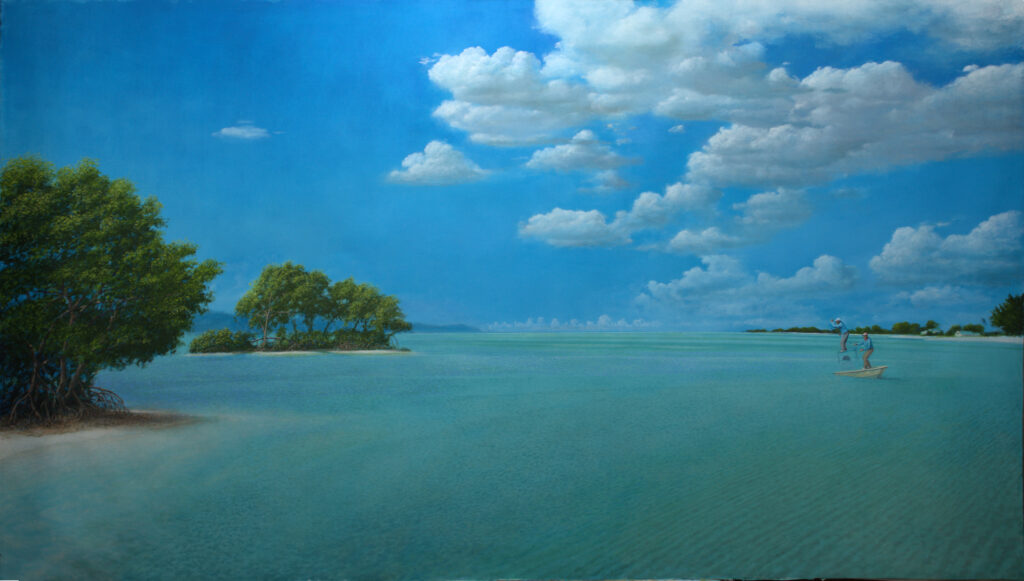 While Keith may rely on his expertise and past experiences in painting the sky – the lighting, the cloud formations, and the warmth these elements convey – the water is completely different from anything he has done to date. Its appearance, feel, light refraction from the shallow white sand, and sense of warmth is unlike anything found in a cold-water stream or river setting and requires a completely different discipline in Keith's mind to make the imagery convincing and achieving what he sets out to do. It is this ability to step beyond his comfort zone in each new work, with such conviction, that sets him apart as a Sporting Artist.
Cardnell: One might wonder what I actually did in the sea areas of '3' and '6'.  It isn't immediately obvious unless you refer to Stage 03.2 ('More Clouds').  Then if you zoom in on both you will notice that I have added at least the same number of short brush strokes in lighter tones.  These were used to 'break up' the darker tones to make them smaller and enhance the detail in previously 'flat' areas. The net effect is to 'soften' these sea areas and brighten them overall.  This process will be continued in other passes.
In '7' I scumbled in some Naples yellow areas to indicate a soft undulating sandy bed.  All the transitions between areas '7', '5' and '4' were improved and now considered suitable for the addition of pin-sharp highlights.  In addition to this, the furrows in area '4' were subdued by a light, semi-transparent, wash of white.