Tips for Curating A Personal Art Collection
Starting and curating an art collection can seem like a daunting task – the world of art is massive, and it can be a bit overwhelming if you don't know exactly where to look or what you're looking for. For those of you looking for a little guidance on how to start or continue, we've outlined the top five pillars we live by when it comes to building a personal art collection. Let us know your thoughts in the comments down below, and always remember that the collecting experience is ultimately about what you want to achieve for your art collection!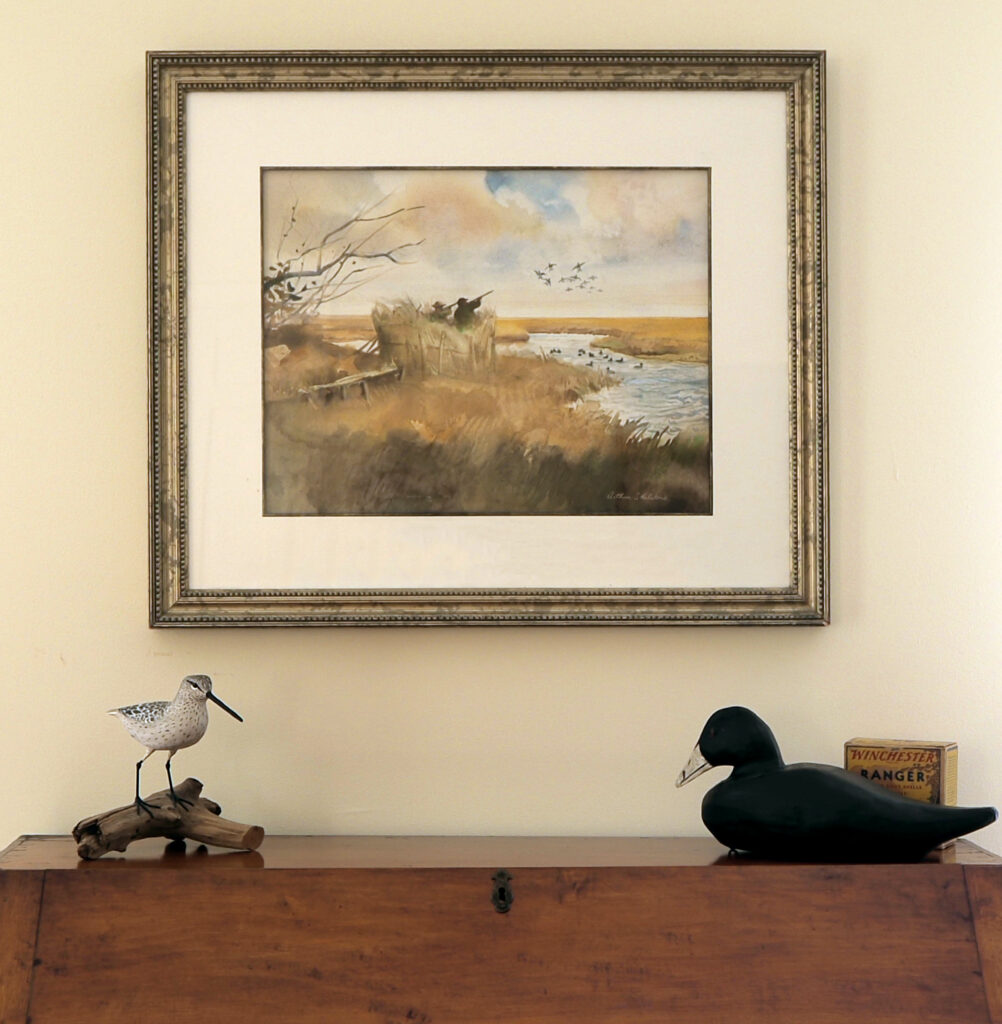 Buy With Purpose
When we say 'buy with purpose,' we're not just talking about buying art for the purpose of filling a blank space on the walls. Yes, creating an aesthetically & visually-appealing home is important, but you want to make sure you're creating a space that is unique to you and reflects your unique experiences, thoughts, and desires. When you see a piece of artwork that catches your eye, press yourself to think about why it caught your eye and what purpose it could serve in your collection and home. Will it be a new heirloom piece that you can pass on to future generations? Does it commemorate a memorable experience you had, like a hunting or fishing trip? Is it a painting by an artist you've been wanting to support and haven't had the opportunity to do so until now? Challenging yourself to ask these questions about the artwork to which you're drawn will help you curate an incredibly meaningful, personalized collection.
And of course, if you have a particular purpose in mind, but can't find the exact piece of art to fill that purpose, you can always commission a piece of work from a particular artist. Send us an email to inquire.
2. Let Your Collection Grow & Evolve With You
The most important thing here is to accumulate slowly. If you've just moved into a new home and find yourself looking at blank walls, it can be tempting to buy a whole bunch of art all at once just to get those blank spaces filled as quickly as possible. But ultimately your future self will thank you if you take the proper time to find the right pieces for you and your home. 
Additionally, it's important to remember that personal preferences might change over time, and it's good to honor those changes. Maybe you have a piece from your early days of collecting that no longer brings you the joy it once did, or is no longer an honest reflection of yourself. If that's the case, ask yourself if it's time to say goodbye to that piece by either selling or gifting it to a new home, in order to make room for something new – both in your home and in your heart.
3. Listen to Advice While Staying True to You
It's good to get outside opinions on curating your art collection – other people might see opportunities you didn't see, like an artist or subject that'd be new to your collection, a chance to acquire something you've been wanting at an incredible price, or simply an opinion that allows you to see something old from a new perspective. While it's important to listen to others' expertise & approach and take notes on things you may not have considered yourself, you'll ultimately want to follow your heart and do what's right for you and your collection. You don't want to end up with something you'll regret purchasing just because a designer or gallerist or influencer told you that you need it.
4. Don't Forget to Think About Practicality
It's easy to get carried away in a dreamland when collecting art, but sometimes we have to remind ourselves to come back down to earth and think about what's really practical for our art collections and homes. Have a big move coming up? May be best to hold off on that 10-foot sculpture for now. Hosting an event in your home soon and need to fill an empty space with a statement-making piece of art? Consider any applicable production or shipping timelines and give yourself plenty of time for possible unforeseen delays or adjustments that may need to happen.
It's important to scrutinize these small details in order to give yourself the best collecting experience possible, but also trust that if a piece is destined for your collection, it will happen.
5. Above All Else, Buy What You Love And Will Cherish
Starting and curating an art collection for your home can be an incredibly personal, intimate journey, and it looks different for everyone. At the end of the day, the most important thing is that you, as a collector, do what's in the best interest of you, your home, and your art.